If you've found this page, I want to first state that I'm terribly sorry to hear that you're looking for a dog wheelchair. Whatever reason that requires them to have one, it must be very rough.
Fortunately you are trying to help give them their life back with some mobility. We have ranked some options below that should help your dog.
Our Top Wheelchairs For Dog's Back Legs:
Walkin' Wheels Dog Wheelchair
Our Choice
Great for dogs 70lbs+
Veterinarian Approved
Top selling trusted brand
Rated by: Debbie
HiHydro 6 Types Cart Pet Wheelchair
Universal Choice
Many size options for various dogs
Lightweight design
Made with stainless steel
Rated by: Debbie
TWO WHEELS ADJUSTABLE DOG WHEELCHAIR
Runner-Up
No products found.
7 different sizes
Easy assembly
Belly Band Specially for Spondylitis
Rated by: Debbie
Other Considerations:
Fore-leg Wheelchairs For Dogs:
How We Rate Doggie Wheelchairs
Mobility
Ease of Use
Affordability
Dog's Comfort
What To Consider When Getting A Pet Wheelchair
Does It Work For Your Pet
Some pet wheelchairs work for all kinds of animals. However, make sure you read the description and reviews from other to see if it works for your pet. Some wheelchairs made for dogs may not be suitable for bunnies, or vice versa.
Your Dog's Height
Large Dogs
Small Dogs
Medium Sized Dogs
Giant Dogs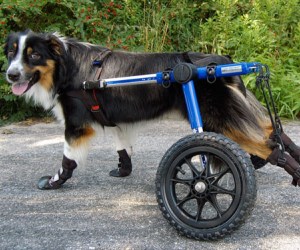 Last update on 2023-12-07 / Images from Amazon Product Advertising API. As an Amazon Associate, I get commissions for purchases made through links in this post.